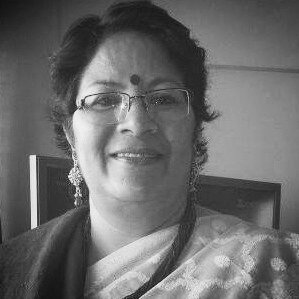 Vijaylaxmi Joshi – Mentor
Mrs. Vijaylaxmi Joshi is a former Gujarat cadre IAS officer from the 1980 batch. In her last assignment, she helmed the ambitious Swachh Bharat Mission as Secretary of the Ministry of Drinking Water and Sanitation, Government of India.
At Policy Monks, she stewards the overall strategy. Previously, Mrs. Joshi was Secretary in the Ministry of Panchayati Raj, until 2011, when her Central deputation began as Joint Secretary, Ministry of Commerce, in the UPA-II government. Mrs. Joshi served as the Chairman and Managing Director at MMTC Ltd. from July 22, 2011 to October 5, 2012. She also served as Chairman of the Board and Director at Neelachal Ispat Nigam Limited.
Even though Joshi was serving as the Secretary of Panchayati Raj Ministry, she was appointed as an OSD in the Drinking Water Ministry to assist the outgoing secretary in launching the Swacch Bharat Mission on 2 October, 2014.
Mrs. Joshi is a graduate in English Literature and a Post Graduate in Psychology. She started her Indian bureaucracy career in 1982 as Assistant Collector and has held many important portfolios at the State and Government of India level. She has been Under Secretary- Defence (GOI), Joint Secretary-Industries and Chairman of Gujarat Electricity Board.